Threads preach progress over perfection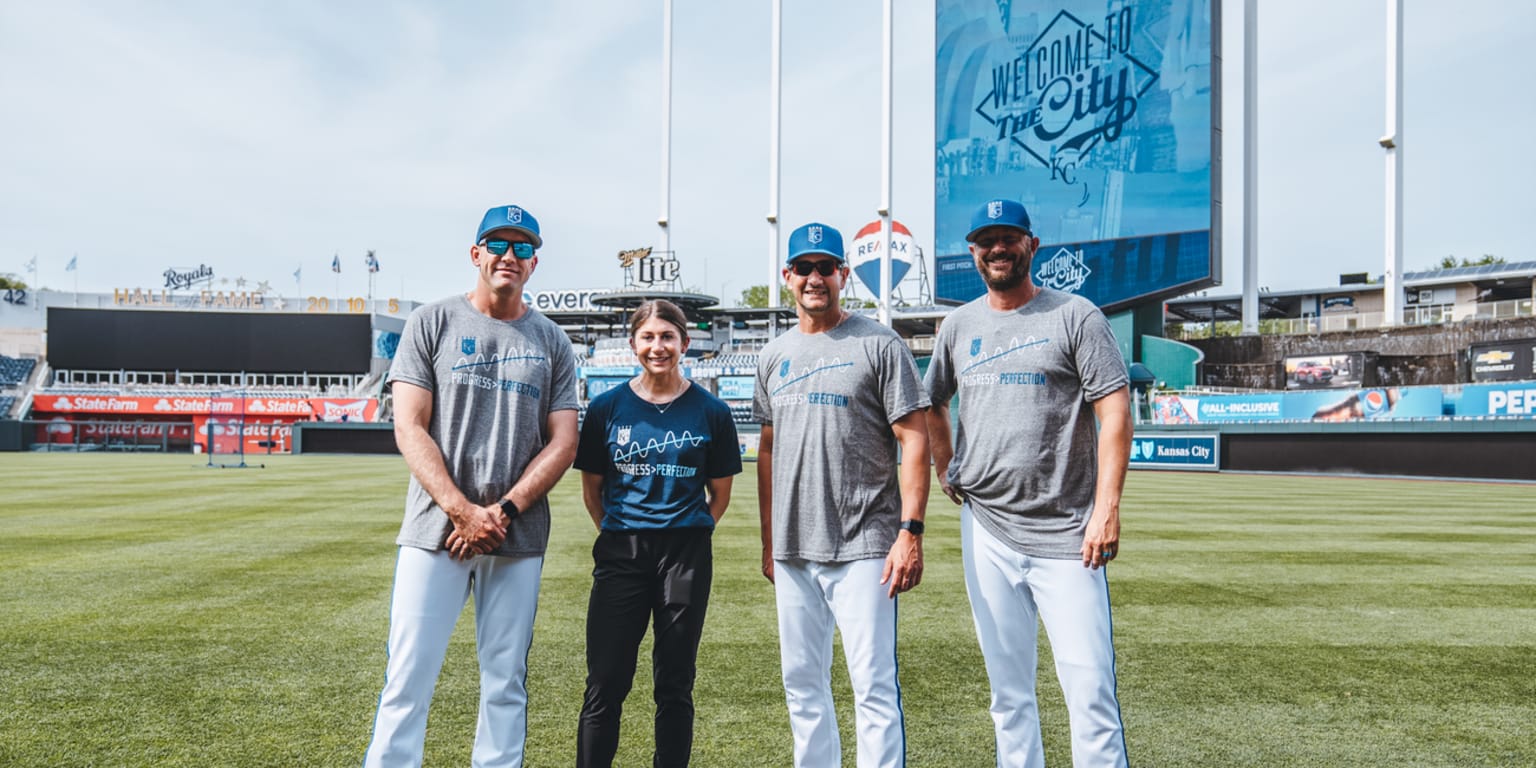 This story was excerpted from Anne Rogers' Royals Beat newsletter. To read the full newsletter, click here. And subscribe to get it regularly in your inbox.
KANSAS CITY — The Royals debuted a new T-shirt before Wednesday night's game against the White Sox. This one had a meaning bigger than baseball.
Players and coaches wore blue and gray shirts that Melissa Lambert, associate director of behavior science, helped design with the Royals' creative team. A diagonal blue arrow is overlaid by a white, curvy line signifying peaks and valleys.
Underneath the graphic is the phrase: Progress > Perfection.
"As athletes, we're seen as idols to people … seen as superheroes in some ways," first baseman Nick Pratto said. "But we're all human beings going through experiences. We all have our pasts, presents and futures. [We all have] worries and doubts. It's bringing the human element into the game. And letting the world know that we're all in it together."
May is mental health awareness month, and the Royals debuted the shirt on the same day the organization launched its annual Shut Out The Stigma campaign at the ballpark and in the community. This year, players and coaches are more involved in the initiative to help raise awareness for behavioral health challenges. They voted on the t-shirt design. Nearly everyone was wearing it Wednesday.
"Every guy handles this job differently," reliever Taylor Clarke said. "I think it's just finding something that works for you. It's nice to have all the resources. You see it being embraced around the league a little more."
"I think this was a good pilot and a good start to just normalize this stuff," Lambert added. "How can we do more for players but also tie it into the community? The shirt's message is about things not just on the field, it's things in life that you don't anticipate. Losses in your family, struggles in your relationships, things like that. It's never going to be a straight line. 
"Normalizing that as a human being, you're going to face adversity. You're going to have struggles. But that's where you build resilience, and you're right back up."
The Royals' Shut Out The Stigma campaign partners with Blue KC to raise awareness for behavioral health challenges and resources for the community. Blue KC donates $30 for every inning a Royals pitcher records a shutout, collected on a monthly basis. Each month, a new organization is selected to receive the distribution.
Part of Shut Out The Stigma this year is an initiative aimed at educating parents and guardians on the pressures youth athletes face today. On Wednesday, they unveiled letters written by kids residing in the Kansas City area to their parents and guardians about the pressure they face in youth sports.
The letters also discussed how parents and guardians can impact them in positive and negative ways and how that impact is proving to have lifelong mental health effects related to anxiety, depression and other disorders. The letters were enlarged for a 10-foot sign and are on display at youth sports complexes around Kansas City.
"The most eye-opening lesson I've learned throughout this project is how aware our children are of everything we do and say," said Royals vice president of brand innovation Tony Snethen, one of the main creators of this project. "Our actions — good or bad — are imprinted instantly into their minds. With that in mind, what do we want the ripple effect of our parenting to be?"
At the bottom of the sign are behavioral health resources for parents and children. You can read the letters and see the resources here.
"What I want everybody to understand is that uncertainty is guaranteed, and how you deal with uncertainty is really important," Royals director of behavioral sciences Ryan Maid said. "As much as we strive for perfection, we have to be really aware of what's unhealthy and healthy when it comes to performance. I hope that the shirts our guys are wearing and the letters from home bring awareness to those things to create closer bonds with your teammates, parents, siblings, whoever. Understanding that you aren't alone in that."
Having players wear shirts and be willing to talk about the mental health crisis was an added bonus this year for the Royals' campaign.
And it speaks to the impact that Lambert and the behavioral science department is making throughout the organization this year.
"The more that we can be open about having those conversations so that people don't feel like they're going through it alone, the better," Lambert said. "The worst part is when someone internalizes [issues] and goes inward. Eventually, they're going to reach a threshold where they can't handle it anymore, and it's going to come out in non-productive ways.
"All of the guys that are coming out and talking about this, I really commend it, because it's changing the game," Lambert said. "It's risky, right? It puts them in a vulnerable place. But we don't get anywhere, and we don't shift how we look at things if guys aren't doing this kind of stuff."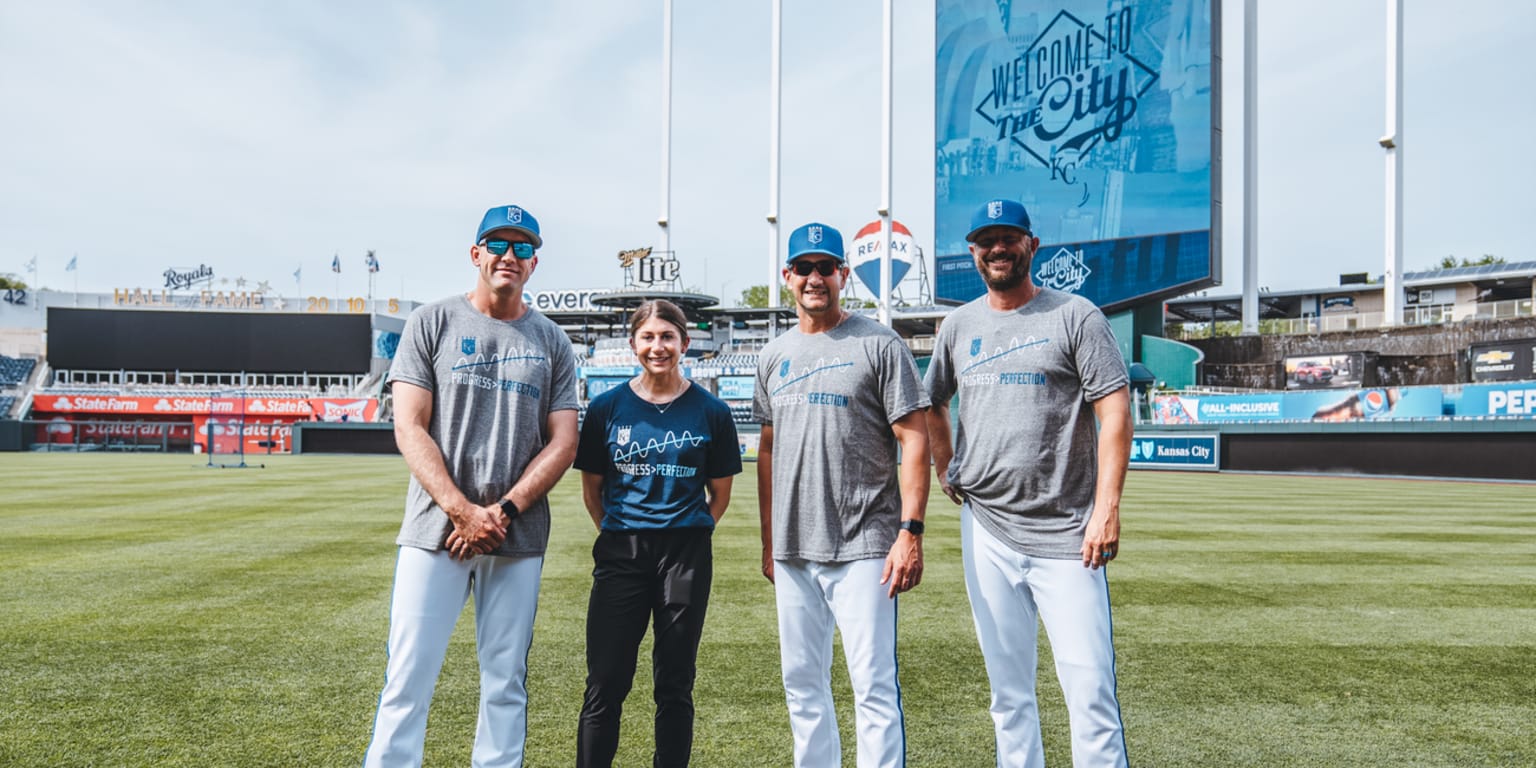 Threads preach progress over perfection
If you have any question please CONTACT  Us
Email us at:  info@discountsportsinc.com
Call US : (832) 722-8074
Don't Forget to Visit our Shop